Our purpose is to serve our customers with the highest-quality foodservice products and services. We achieve this purpose through innovative systems and the spirit and integrity of our people.
The Customer Is King.
We are committed to servicing our customers - above and beyond their expectations.
Integrity
We mean what we say, and say what we mean.
Transparency
What you see is what you get. We conduct business with an open book - No games, no hidden agenda.
Everyone is Important
We ask a lot of our team. We believe that each and every member contributes to our success.
Company Facts
Founded in 1959 by Jim Shetakis.
Currrent management acquired the Company in 2000.
Member of Unipro Foodservice, Inc.
17 Delivery Vehicles
Unipro and Shetakis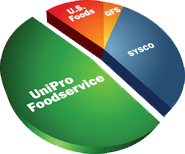 Unipro Foodservice is the largest network of foodservice distributors in the the United States. Comprising over 450 shareholder companies, each distributor is independently owned, marketing the products and services provided by UniPro Foodservice. With a collective sales volume of over $60 billion, the buying power of UniPro enables Shetakis to receive enhanced purchasing opportunities, thereby providing better pricing and a vast array of products and services to our customers.
UniPro members service accounts in all segments of the foodservice industry, including independent and multi-unit restaurants, healthcare facilities, schools, military feeding, and other mass-feeding operations.
In addition to marketing the most recognized national brands in the foodservice arena, Shetakis markets the Nifda®. Cortona®, UniPro®, Reflections®, and Companions® brand of products.

Introduced in 1957, Nifda has remained a beacon of tradition and one of our most trusted brands. Nifda varieties include Nifda Prime Pak, Nifda and Chef Pak.
Quality, variety, integrity and commitment are the cornerstones of each UniPro label. UniPro is proud to offer four proprietary labels to our membership, each recognized throughout the foodservice industry for offering superior products.
The consistent quality of all UniPro labels result from thorough product specifications, plant inspections and constant quality assurance checks. Each UniPro brand is available in three quality levels to offer members the products they need for all audiences within the foodservice community.
Industry studies indicate that Italian specialties consistently rank high among consumer menu preferences. The Cortona® Brand supports this trend and provides the ideal product line to create significant growth opportunities and considerable financial benefits to you.
Featured under the Cortona® Brand are domestic dry pastas, tomato products, frozen filled pastas, meatballs, eggplant, Italian cheeses, olive oil, pizza toppings, pizza crusts and parmesan cheese and red pepper packets that enhance your growth and profit potential.
UniPro Foodservice, Inc. is the leading foodservice distribution network