Customer Profile: Memphis Championship BBQ's Steven Overlay

The Boldest Griller In America
Steven Overlay of Henderson, Nevada. was crowned the "BOLDEST Griller in America" by Guy Fieri and winner of the Bring It t-ON-g Pork Grilling Challenge. "
Overlay grilled off against Devon Delaney of Princeton, N.J. and Loanne Chiu of Forth Worth, Texas and walked away with the $5,000 grand prize! The top three recipes were selected from hundreds of entries received from across the country from May thru August 17.
---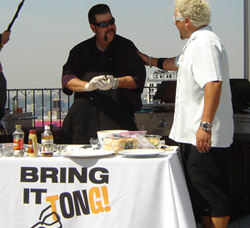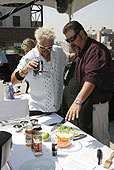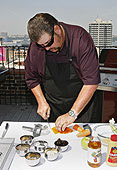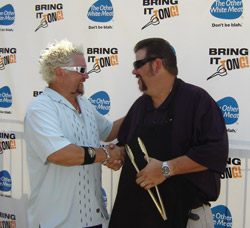 Steve related his experience:

I entered via the Internet back in May, and a couple days before we left for Reno I got a call. I was actually packing the trailers for the "Best of the West Rib Cookoff" in Reno, and had forgotten about the contest. I figured someone else had won....

I was informed that I was one of three finalists and had won an infrared grill from Charbroil and an all expenses paid trip for two to New York so I could face the other two finalists and compete in front of celebrity judge Guy Fiery for the title and $5,000.

One contestant was from Fort Worth Texas and was cooking Bangkok Pork, the other was from New Jersey and she was cooking Cowboy Salad. I was presenting "Poppin' Pork Burgers with Green Apple Slaw". I won the whole Shebang. It was a first class operation and they took great care of us the whole way! We had a lot of fun, but best of all we got to play around with Guy Fiery.

Here is the recipe so that anyone can try my $5,000 Burger!

Poppin' Pork Burgers with Green Apple Slaw
Recipe courtesy Steven Overlay.
Ingredients

1 1/4 pound ground pork
4 ounces pancetta, uncooked
1/2 cup dried apricot
1 fresh garlic clove, peeled
2 Mexican chili peppers, dry
1 bunch green onions
4 leaves fresh sage
1/8 teaspoon black pepper
1/8 teaspoon cumin, ground
1 large carrot, peeled
1 large Granny Smith apple
1 tablespoons light Karo syrup
1 1/2 tablespoons apple cider vinegar
1 teaspoon Gulden's Brown mustard
6 buns
Pinch celery seed
Salt to the taste
White sugar to the taste
Cooking Directions

Mince pancetta, garlic, white of green onions (save tops for slaw), apricots, chili pods and sage. Add pepper and cumin and work into the ground pork thoroughly. Next make into six even balls and flatten patties and place each one on wax paper until ready to use.

In a small nonporous bowl combine Karo syrup, mustard, vinegar, and celery seed. Next core apple and cut fruit into long thin julienne (matchstick size) and then place directly into vinegar mix. Do the same with the carrot and then cut the green onion tops "Chinese style," angled as long and thin as you can and add to the mix. Mix well and refrigerate for at least an hour and season with sugar or if you feel it needs salt to taste.

Place Poppin' Pork Burger patties directly on char broiler or grill set at mid-high heat and grill about 3-4 minutes per side turning 3 times and brush with oil to avoid dryness. When the internal temperature reaches 155 degrees F remove the burgers and set on your buns. Then garnish with a healthy pile of green apple slaw.