---
Egg Market Update
(08/11/2023)
Liquid and Shell Egg Market News

August 11, 2023


Source: USDA AMS Livestock & Poultry Program, Livestock, Poultry, and Grain Market News Division

Egg Markets Overview
SHELL EGG HIGHLIGHTS
Source: USDA AMS Livestock & Poultry Program, Livestock, Poultry, and Grain Market News Division Egg Markets Overview

Wholesale prices for cartoned shell eggs began to advance through the week on moderate
but increasing demand, light to moderate offerings, and moderate supplies. Trading is
moderate. Wholesale prices for graded loose eggs were firm with light to moderate
offerings and supplies and increasing interest. The pace of trading is moderate. The
volume of trailer load loose egg sales this week increased 47% from last week with 30%
for future delivery, indicating favorable expectations for egg demand moving forward.
Prices for national trading of trucklot quantities of graded, loose, White Large shell eggs
gained $0.06 to $0.95 per dozen with a firm undertone.
The California benchmark for Large shell eggs declined $0.12 to $1.89 per dozen with a weak undertone.
Delivered prices on the California-compliant wholesale loose egg market declined $0.07 to $1.26 per dozen with a steady
undertone.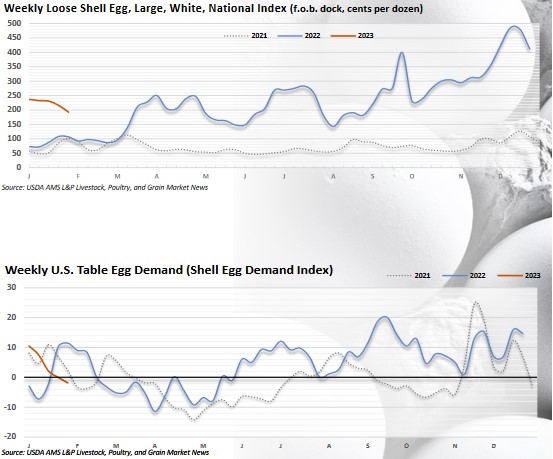 CAGE FREE
Cage-free commitments as of July 2023 remain about unchanged, requiring 66.7 billion
cage-free eggs per year to meet 100% of needs from an approximate cage-free flock of
221.4 million hens (70% of the U.S. non-organic flock), indicating a shortage of 118.4
million hens from the current non-organic cage-free flock of 103 million hens. The
average lay rate for non-organic, barn/aviary cage-free production is currently estimated
at 81.9.


LIQUID EGG HIGHLIGHTS
Wholesale prices for certified liquid whole eggs are higher than the last reportable test
with a steady to firm undertone. Demand is mixed – best for whole egg and whites.
Offerings are light to moderate with moderate to instances active trading. Prices on frozen
liquid eggs are lightly tested with whole eggs mostly steady to weak 
moderate.

Source: USDA Egg Market News