---
Egg Market Update
(01/06/2023)
Liquid and Shell Egg Market News

January 6, 2023


Source: USDA AMS Livestock & Poultry Program, Livestock, Poultry, and Grain Market News Division

Egg Markets Overview
SHELL EGG HIGHLIGHTS

Wholesale prices for cartoned shell eggs continue to move lower with supplies and
offerings at light to moderate levels. Demand is moderate to good with business focused
on restocking and the pace of trading is moderate. Wholesale prices for graded loose
eggs are moving sharply with light to moderate offerings and moderate supplies. Interest
is mostly moderate and trading is moderate. The volume of trailer load loose egg sales
this week rose 11% from the prior week with 14% for future delivery. Prices for national
trading of trucklot quantities of graded, loose, White Large shell eggs declined $1.75 to
$2.366 per dozen with weak undertone. The wholesale price on the New York market for
Large cartoned shell eggs delivered to retailers decreased $0.60 to $4.59 per dozen with
a weak undertone. The Midwest wholesale price for Large, white, shell eggs delivered to
warehouses decreased $0.13 to $5.17 per dozen with an unsettled undertone. Prices paid
to producers in the Midwest for Large cartoned shell eggs declined $0.55 to $4.43 with a
weak to lower undertone.
The California benchmark for Large shell eggs decreased $0.13
to $7.37 per dozen with a barely steady undertone. Delivered prices on the California-
compliant wholesale loose egg market decreased $1.06 per dozen to $5.92 per dozen with
a weak undertone.

Consumer demand for shell eggs continues to slowly retreat from its holiday levels but
remains at a higher level entering the new year then was experienced in 2022. As the new
year gets underway, more than a few consumers are looking to modify their dietary
choices to support freshly-minted healthier lifestyle resolutions and eggs remain a popular
go-to option. Recent record high egg prices have begun to soften but it will take some
before this is reflected at the dairy case. In the meanwhile, eggs remain a competitively-
priced protein to other animal proteins. Demand from breakers has been tempered as
breaking schedules were shortened through the holidays – allowing breakers to build their
supplies even as more eggs become available in the spot market as carton demand eases.
The estimated disappearance of shell eggs during the Christmas holiday season was 8.6
eggs per household, representing a 1.6 egg (23%) increase from the 2021 season. This
represents a 24% decline from the Thanksgiving estimate of 11.4 eggs per household –
8% better than the typical comparison as Thanksgiving normally is the peak demand
season. This rate also equals the rate seen in the 2013 season when retail advertised prices
were 70% lower than in 2022.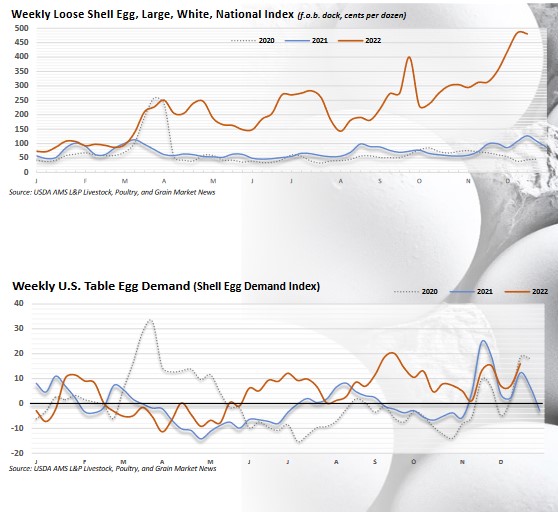 CAGE FREE
Cage-free commitments as of December 2022 remain about unchanged, requiring 66.7
billion cage-free eggs per year to meet 100% of needs from an approximate cage-free
flock of 221.4 million hens (72% of the U.S. non-organic flock), indicating a shortage of
133.4 million hens from the current non-organic cage-free flock of 88 million hens. The
average lay rate for non-organic, barn/aviary cage-free production is currently estimated
at 82.5%.


LIQUID EGG HIGHLIGHTS
Wholesale prices for liquid egg products are unquoted with too few trades to report. The
undertone is unsettled with light to moderate offerings and moderate demand. Prices on
frozen whole eggs declined $0.15 to $3.00 per pound while those for frozen whites
increased $0.25 to $2.50 per pound. The undertone is mixed. Offerings and supplies are
light to moderate; demand is moderate to good and trading is mostly moderate. Prices
for dried whole eggs are steady where tested with whole dried at $13.75 per pound. Dried
yolk prices are down $0.40 from the last test to $15.90 per pound. Offerings are light to
moderate on light supplies. Demand is moderate to good and trading is moderate to
occasionally active.

Source: USDA Egg Market News